Description
A professional masque offers after-treatment relief through a deep conditioning by Asiatic Pennywort Extract. This masque provides soothing and circulatory stimulant properties. The infusion of Aloe Vera Extract and Vitamin C helps improve skin protection barrier, thus restoring skin suppleness. Functions: - Cream-to-oil formulation provides deep conditioning to dehydrated, sensitive skin. - Soothes irritated skin with plant extracts. - Calms redness with gentle, yet highly-effective ingredient. - Repairs and reinforces skin's protective barrier. - Restores skin comfort for a healthy
Cream-to-oil formulation provides deep conditioning for dehydrated, sensitive skin.

Soothes skin with plant extracts.

Calming properties with gentle, yet highly-effective ingredient.

Repairs and reinforces skin's protective barrier.

Restores skin comfort for a healthy looking skin.
How to use
Apply evenly over entire face and neck, avoiding the eye and lip area. After 15-20 minutes, gently wipe off.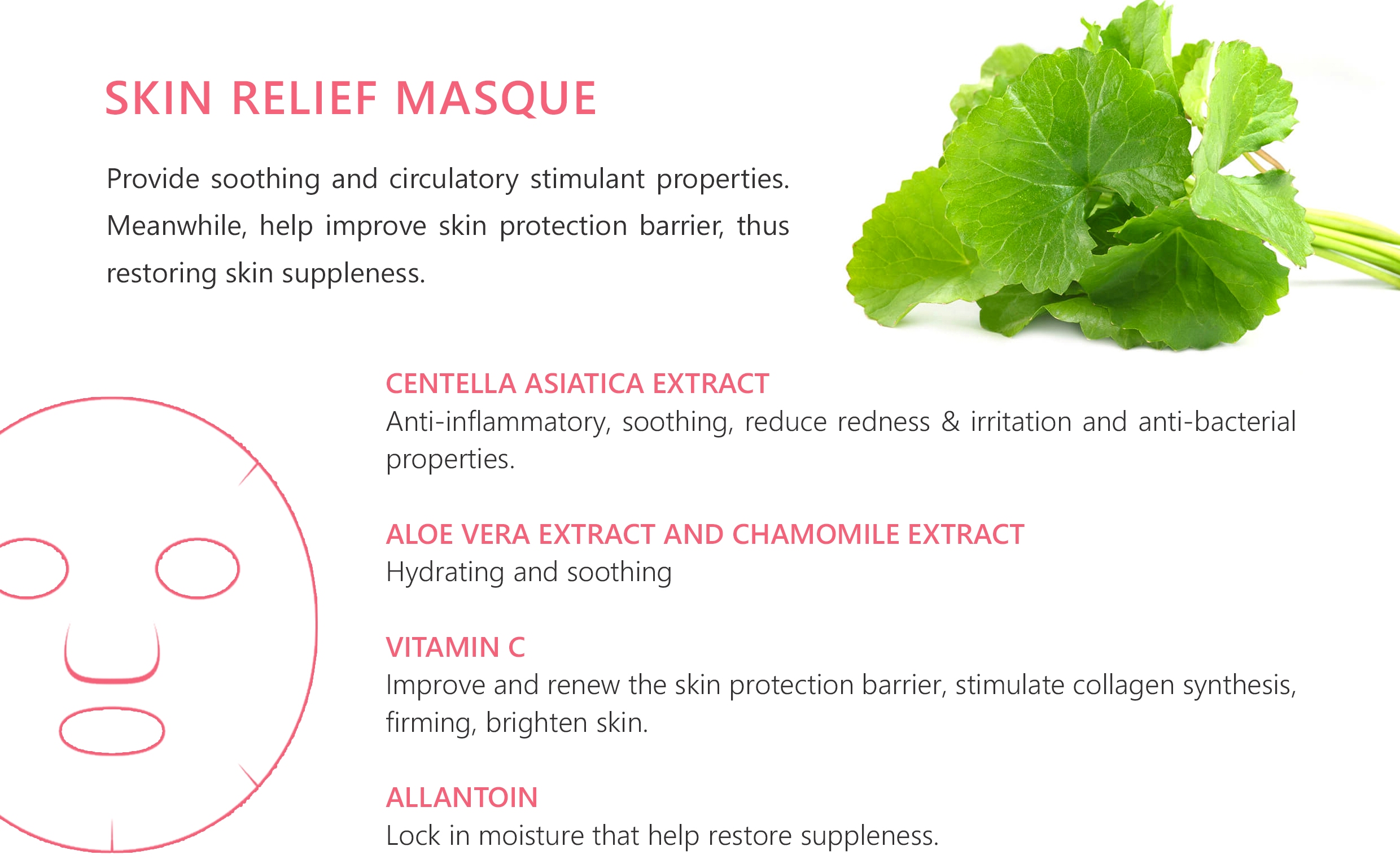 Ingredients
| | | | | |
| --- | --- | --- | --- | --- |
| Allantoin | | | | Anti-inflammatory, Anti-allergic |
| Aloe Barbadensis Extract | | | | Anti-inflammatory |
| Asiatic acid | | | | Skin Conditioning, Stabilising |
| Caprylic/Capric Triglyceride | | | | Fragrance |
| Cetearyl Alcohol | | | | Surfactant, Viscosity Control, Emulsifier |
| Chamomile Extract | | | | Anti-inflammatory, Whitening |
| Cyclomethicone | | | | Solvent, Viscosity Control, Antistatic, Moisturizer, Emollient |
| DMDM Hydantoin | | | | Preservative |
| Fragrance | | | | Fragrance |
| Glycerin | | | | Solvent, Moisturizer |
| Glyceryl Stearate | | | | Emollient, Emulsifier |
| ISOPROPYL PALMITATE | | | | Solvent, Fragrance, Synthetic ester, Moisturizer |
| PEG-100 Stearate | | | | Surfactant |
| Purified Water (Aqua) | | | | Solvent |
| Stearic Acid | | | | Surfactant, Viscosity Control, Emulsifier |
| Vitamin C (Ascorbic Acid) | | | | Antioxidant, Whitening |
| Xanthan Gum | | | | Viscosity Control |